July 25, 2023 2:56 PM IST
Indian The princess of one of the princely states had a big role in the women's voting rights movement. It was because of him that the women of Britain got the right to vote. For this movement, he had even put his royal status in danger. But, over time, he was forgotten in history. However, now this Indian princess and her struggle for the suffrage of British women has been given a place in children's books. We are talking about Sophia Duleep Singh, daughter of Maharaja Duleep Singh, the last Sikh ruler of Punjab.
The daughter of Maharaja Duleep Singh, Sophia Duleep Singh grew up in Elvedene on the Norfolk-Suffolk border. In fact, the British rulers in India had exiled Maharaja Duleep Singh to Britain in 1840 after capturing his empire. After this, every attempt of Dalip Singh to return to India was unsuccessful. After this, he had bought Elviden Hall with the amount of compensation. In this he stayed with his children. According to a BBC report, Princess Sophia fought for women's voting rights in the 1900s.
read this also – Who was Bholenath's sister, how was her origin, why there was a quarrel with Parvatiji
Movement against the British Empire in Britain
The family of Maharaja Dalip Singh was very close to Queen Victoria of Britain. That's why Queen Victoria also gave an apartment to this royal family in Hampton Court Palace. Sophia Dalip Singh was called the goddaughter of the queen. So, in the early years, Princess Sophia was leading a British women's life. Over time, she felt that she should do something for the rights of women in Britain. She was a member of the Women's Social and Political Union and the Women's Tax Resistance League. This league gave the slogan 'No vote, no tax' for women's suffrage.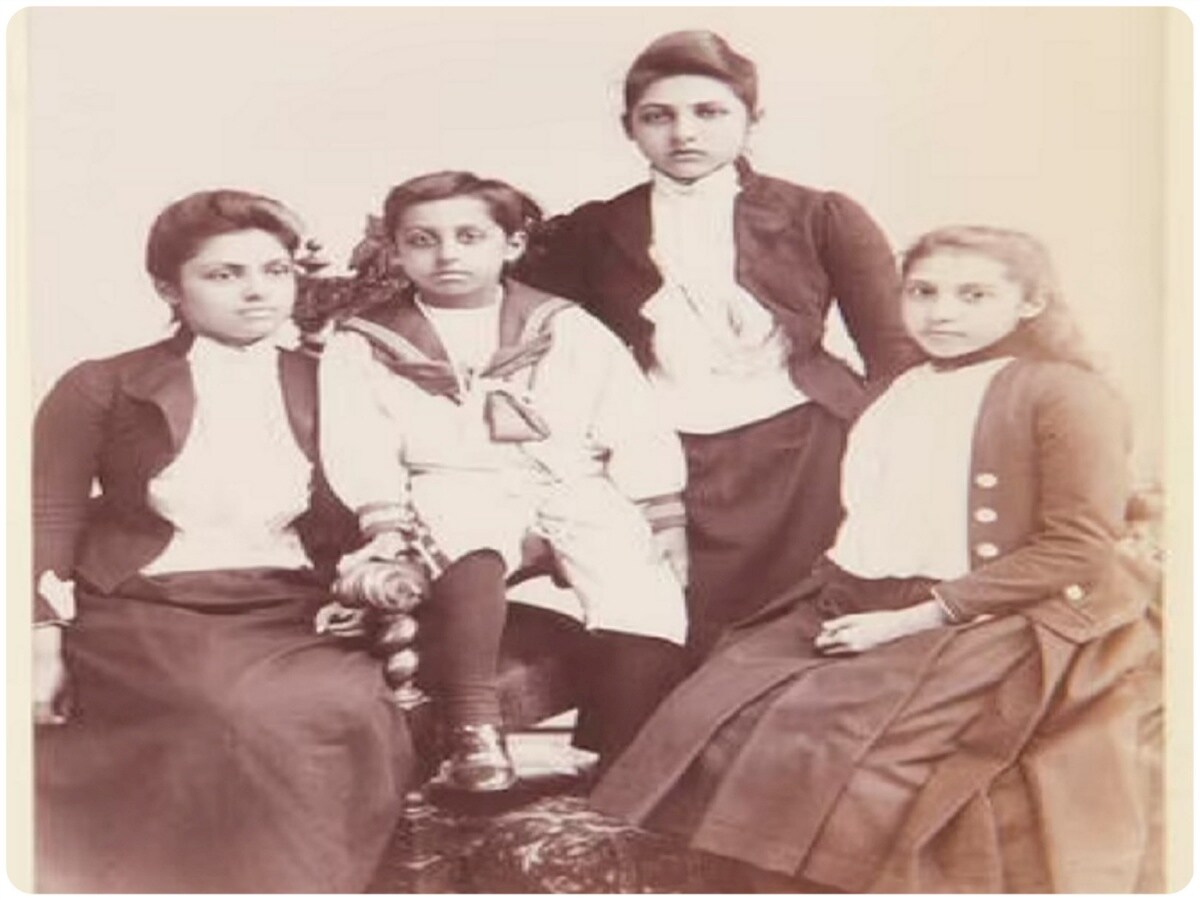 The family of Maharaja Dalip Singh was very close to Queen Victoria of Britain. (Image: Wikipedia)
Sophia's performance in front of the British Parliament
In 1910, Princess Sophia, along with 400 women, performed a tremendous demonstration in front of Britain's Parliament House. Women's suffrage activist Emmeline Penkhurst was also involved in this demonstration. This demonstration was later called 'Black Friday'. Princess Sofia did not limit herself to sloganeering or participating in protests. She was also found selling a newspaper in support of women's suffrage outside her home at Hampton Court Palace. Because of this, he and his family had to face strange situations many times.
read this also – Why some people are shameless, how they do not feel ashamed of anything
Was greatly influenced by Lala Lajpat Rai
British women got the right to vote because of Maharaja Ranjit Singh's granddaughter Princess Sophia. He was born in the summer of 1876. She came to India for the first time in 1903. This was a turning point in his life. She was concerned about the treatment of her fellow citizens under an autocratic colonial administration. The princess was influenced by the work of many Indian revolutionaries. She was most impressed by Lala Lajpat Rai, imprisoned on charges of treason. The work of Lala Lajpat Rai inspired Sophia to go against the British Raj. She returned to England for further fighting. There she became an important part of the women's suffrage movement.
Read this also – How did the Barbie doll become and how did it become so popular, why is it in so much discussion these days?
Dislikes of Sophia increased in England
Due to her involvement in the protests, the number of people who disliked Princess Sophia in England was also increasing. He didn't care about it. In addition to women's right to vote, she did important work for Asian sailors, women's development, India's independence and Indian soldiers injured on the western front of the First World War in 1914. A few years ago, Blue Flak honor was also announced for him. Princess Sofia, who was always ready for struggle, died in 1948 at the age of 71.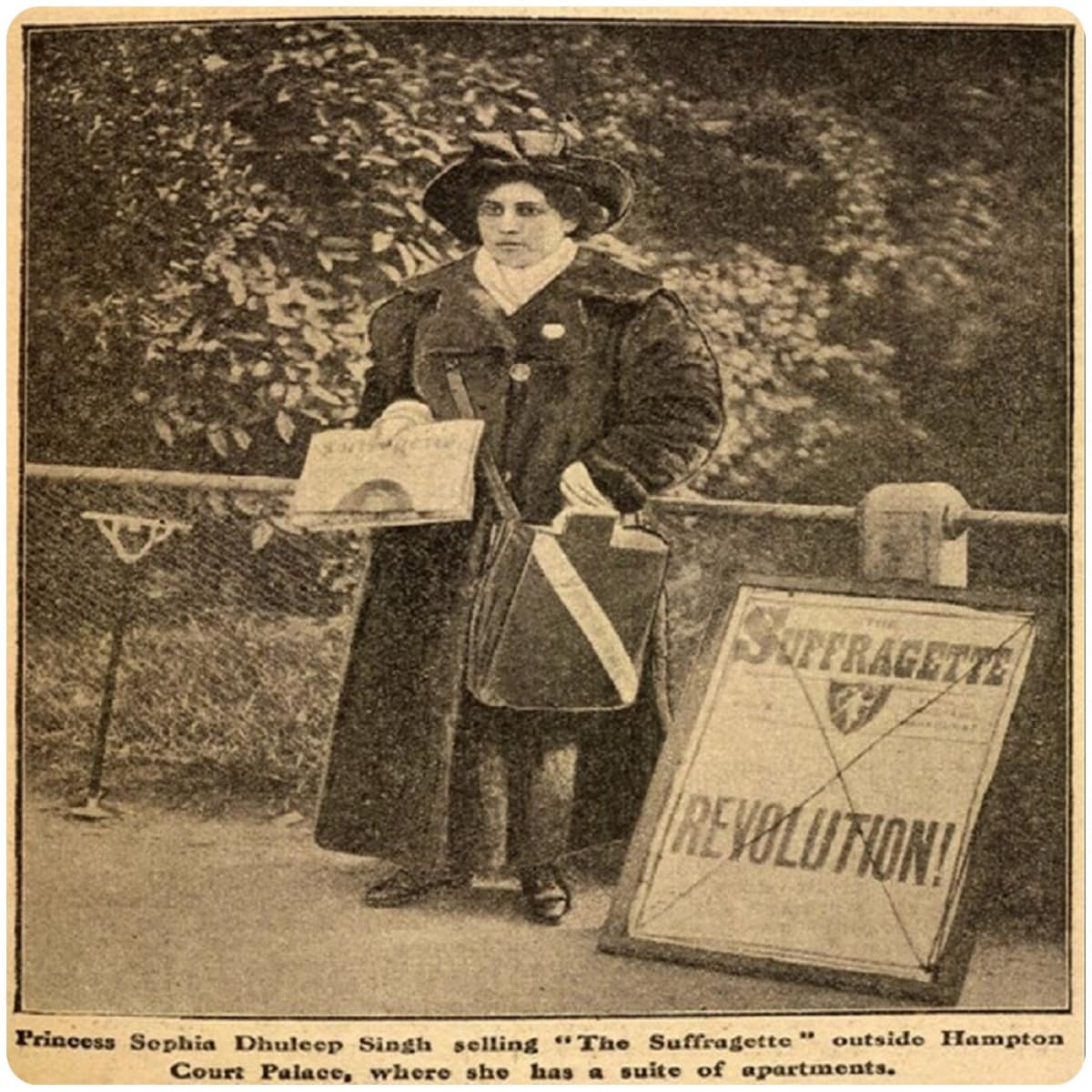 Princess Sophia also sold a newspaper in support of women's suffrage outside her home at Hampton Court Palace. (Image: Wikipedia)
What does the author of the book say, Sophia
Frederick Duleep Singh, Sophia's brother, built the museum in 1921 at Thetford in Norfolk. A book titled 'My Story: Princess Sophia Dalip Singh' has been launched at the Ancient House Museum. This book is written for children of 9 to 13 years. Its author Ahmed told the BBC that I did not know much about him. When I came to know that there was a woman like her who fought for suffrage, I was very impressed. We remember the people we read about in school for the rest of our lives. One such woman for me was Florence Nightingale. Hopefully the story of Mick Princess Sophia will inspire children. She was shy, but fashionable.
,
Tags: British Raj, British royal family, History, Revolutionary Freedom Fighter
FIRST PUBLISHED : July 25, 2023, 14:46 IST