July 24, 2023 8:04 PM IST
New Delhi. Kangana Ranaut is especially known for her acting as well as her impeccable style. Now once again he has created a sensation on social media by taking the name of Hrithik Roshan. Recently, the actress shared a screenshot of a news article on social media and wrote tauntingly that after Hrithik Roshan, she has now robbed the respect of poor Veer Das as well.
Kangana Ranaut not only remains in the limelight for her acting, but she also remains in headlines for her bold style. Now a post shared by the actress is making headlines. This post of the actress has once again created panic in the industry. This story is from the actress's film 'Revolver Rani' in which she kissed Veerdas in a scene. Actually, raising questions on the same news, the actress has also said that whatever is being said, when did it happen. The actress responded to this news in a special way that she has hit many targets with one stone.
Sunny Deol's anger erupted over the box office clash of 'OMG 2' and 'Gadar 2', said- 'Who has no equal, his…
Kangana angry over the kissing scene of Veer Das
Kangana Ranaut has recently shared many pictures of sister-in-law Ritu's Godbharai ceremony on her Instagram account with post fans. In the midst of all these pictures, the actress has also posted a screenshot of the news of an entertainment news portal and has given her reaction on it in a taunting manner. In fact, in the headline of the news that Kangana Ranaut has shared the screenshot, it is written that Kangana Ranaut allegedly went very serious while kissing Veer Das and she removed the blood from the actor's lips. Kangana Ranaut gave a befitting reply to this report and wrote- 'After Hrithik Roshan, he looted the respect of poor Veer Das. when did this happen?'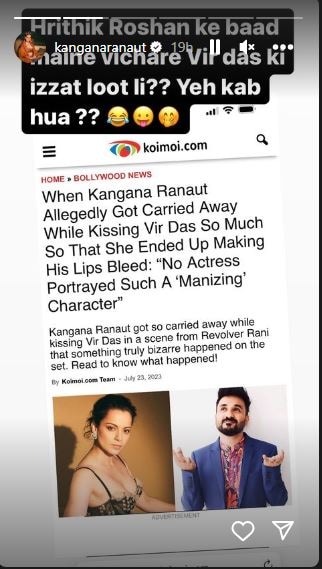 (Photo Credit: Instagram @ kanganaranaut)
Kangana Ranaut again targeted Hrithik
At one time, the quarrel between Kangana Ranaut and Hrithik Roshan also made a lot of headlines. During that time, Kangana had made many revelations about Hrithik and Hrithik about Kangana on social media. According to the reports, in the year 2016-17, the quarrel between Kangana Ranaut and Hrithik reached the court, both of them made allegations and counter-allegations against each other. Kangana had claimed that Hrithik and she had been in a dating relationship, while Hrithik flatly denied this.
Let us tell you that Kangana and Hrithik Roshan shared the screen together in films like Kites and Krrish 3. The pairing of both was also well liked in the film. After this controversy, Kangana and Hrithik were never seen together on screen again.
,
Tags: Bollywood news, Kangana Ranaut
FIRST PUBLISHED : July 24, 2023, 19:56 IST