July 24, 2023 7:27 PM IST
highlights
Cheap food stalls have started at 64 stations.
Snacks food is available for Rs.50.
Plates are also available for 20 rupees.
New Delhi. Indian Railways has given a big gift to the passengers. Especially, to the passengers traveling in the general compartment. Now they will not have to wander here and there to get food and drink at the station. At the railway station, passengers will get a plate of food for Rs 20 and Rs 50 (50 rupees thali at railway station). At the same time, they will be able to take water for only Rs.3. All these items will be available at the Economy Meals Stall. This facility has been started at 64 railway stations of the country.
This service has been started at 64 stations as a trial for 6 months and after that it will be started at the rest of the railway stations. 29 stations in East Zone, 10 stations in North Zone, 3 stations in South Central Zone, 9 stations in South Zone have been included, where cheap food will be available.
Read this also- Which famous city or tourist place is near your railway station, Railway will tell from today, know how?
Restaurant like food will be available in a plate of 50 rupees
Snacks meal will be given for Rs.50 at the economy meal stall. Rice-rajma or chole rice, khichdi, kulche, chole-bhature, pav bhaji and masala dosa will be given in a plate available for Rs.50. Up to 350 grams, any of these things can be taken for Rs.50. Means passengers can get great and tasty food at a very low price.
Cheap food stalls have also started in the Central Zone. (image: @Central_Railway/twitter)
Take a plate for Rs 50 at these stations
In the northern zone, cheap food stalls have started at Phulera, Ajmer, Rewari, Abu Road, Jaipur, Alwar, Udaipur and Mathura railway stations. Similarly, in the Eastern Zone, Durgapur, Asansol, Sealdah, Madhupur, Jasidih, Balasore, Kharagpur, Hijli, New Coochbehar, New Alipurduar, Katihar, New Tinsukia, Kamakhya, Dhanbad, Raxaul, Samastipur, Bettiah, Narkatiaganj, Kiul, Buxar, Mokama, Bakhtiyarpur, Tatanagar, Jharsuguda and Ranchi have started this facility. is.
You will also get cheap plate here
In the South Central Zone, passengers can get a plate of food for Rs 20 and a bottle of water for Rs 3 from economy meal stalls in Bilaspur, Raipur and Godian. Similarly, this service has started at nine stations of South Zone. Cheap plates are available at 15 stations including Satna, Pipariya, Nagpur, Pune, Khandwa Rajkot and Surendranagar railway stations of West Zone.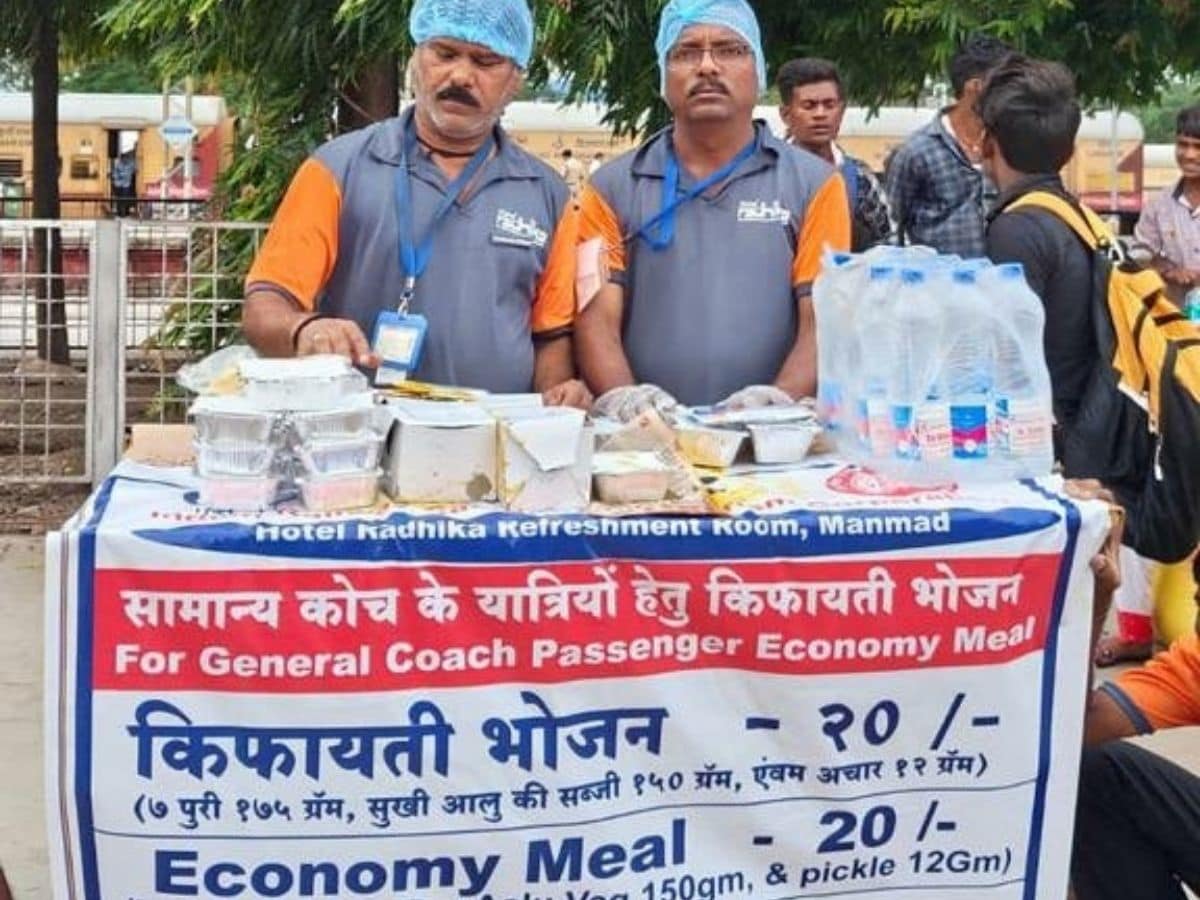 Passengers will also get water at these stalls for three rupees. (image: @Central_Railway/twitter)
You will get full meal even for 20 rupees
Plenty of food is available at meal stalls even for Rs.20. Puri, vegetables and pickles will be available for Rs.20 in the plate available for Rs.20. You can also buy water for Rs 3 from the economy meal stall. The stall with Economy Meals will be installed in front of the general coach only.
,
Tags: business news in hindi, food, Indian Railways, train
FIRST PUBLISHED : July 24, 2023, 19:15 IST